De Gerlien van Tiem bv Shipyard
Home port for inland shipping
De Gerlien van Tiem Shipyard has worked on inland waterway vessels since 1967. The family-owned business has now grown to become a specialist in the field of bow thrusters, spudpoles, ship repair and supply of entirely new ships. De Gerlien van Tiem has the know-how and experience needed to complete any project.
You will find our private harbour and spacious business premises with easy-to-reach mooring quays along the river "The Waal", at kilometre marker number 903. Business premises that feature all the facilities and that fit the working philosophy of De Gerlien van Tiem. Neat and adapted to suit modern requirements, making for utmost comfort while your ship is repaired or serviced.
Mark of quality
Your ship has to sail. That is why reliability is an important key word at De Gerlien. Everything revolves around reliability: in our way of thinking, working and working together. We believe you cannot do enough to ensure quality.
For years now, De Gerlien van Tiem has done repair of inland ships and knows like no other how vital optimum quality and good service are. To give before the job started a good technical and commercial advice and after the job to take care for a water-tight parts supply and fast service by true professionals in the trade follow. Because preventable is better than cure, we devote a great deal of attention to factors that can prevent problems. De Gerlien van Tiem company sails by your side 365 days a year. This gives every skipper and his family a nice feeling of security.
Company movie
Online brochure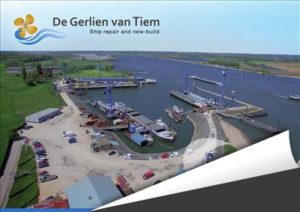 Our online brochure with many additional photos and useful information about De Gerlien van Tiem bv.
Click here to open our brochure.